It's a statement you have heard many times before,
especially on this blog
, if you aren't using social media to advertise your shop, you are losing out on business. But with so much information out there about what you should do with social media, it can be difficult to know where to start. So, to help those getting started, we have created 4 lessons for advertising your glass shop on social media. And for every lesson, we have an example of a glass company successfully putting it into practice.
Lesson 1: Know Your Audience
Social media for businesses is different than personal social media. When you use a personal account you are posting what you like, but when you post for a business you are posting what your customers like. The better you know your audience the better your content on social media will appeal to them. Before creating a post, consider asking yourself if this is something that creates value for your customers, is it something they would appreciate, or enjoy?
Example: Quantum Windows and Doors from Everett, WA
Twitter: 1,111 Followers
Facebook: 495 Likes
Quantum Windows and Doors knows their audience. Their bio on Twitter describes themselves thusly "Hand crafting custom architectural wood and wood clad windows and doors for high end residential and commercial architects and discerning luxury homeowners" This is great! They recognize that they provide a specialized service and have dialed in their bio to reach and appeal to their target demographics.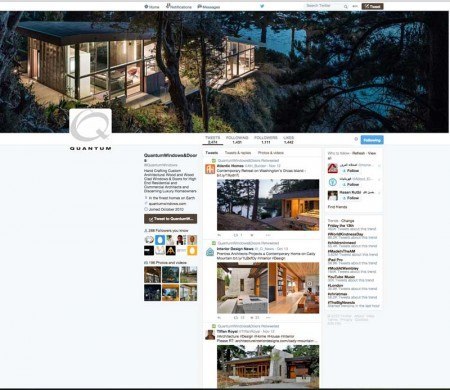 This continues within their posts, which speak to a high end demographic through the use of quality images, updates on their completed jobs and jobs in progress, informative articles, and engaging content that starts a conversation with their followers. In addition to Facebook and Twitter the group at Quantum participate in a variety of other social media including Pinterest, Instagram, and Houzz and they have links to all of them on their website. Quantum knows their target customers are active on all of these social media platforms and they do a great job with each.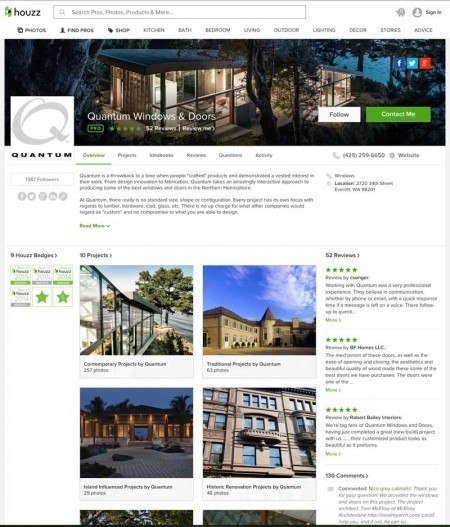 Lesson 2: Be worth following
While it is tempting to use social media as a free advertising platform, customers rarely appreciate commercials. When it comes to Social, you need to change your idea of what advertising is. In social media, advertising means building relationships with people by posting content people want to see, not something they would fast-forward if given the chance. It is recommended that only 10%-20% of posts should be about making sales. The majority of your posts should be about providing content for your audience with that is informative, entertaining, or otherwise engaging. Simply put, you want people to enjoy your updates so much that they want to follow you.
Example: Giroux Glass, they Multiple locations in California and Nevada
Twitter: 2,904 Followers
Facebook: 494 Likes
Giroux Glass has a very established social media presence and one thing we really enjoy about them is the positive feeling their posts have. The messages from Giroux is not typical of most glass companies but they create a unique identity that becomes really unique, personal, and engaging. Also, they rarely "sell" anything on social media.
Giroux is creating value and building customer relationships without excessive selling. These guys consistently find a way to make their news feeds interesting and fun. For example, there are multiple posts recognizing employee success which is both interesting and an effective way to build trust with potential customers.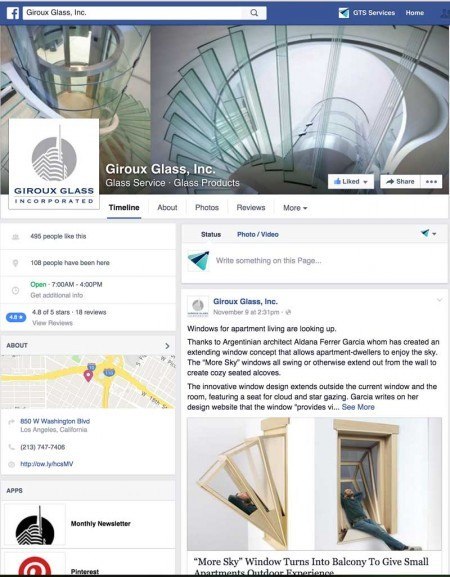 Giroux also takes the opportunity to re-post old articles, interviews, and other content. Whatever they post, it is always professional, consistent, and fun.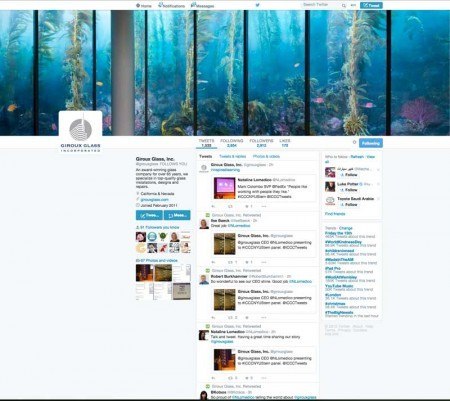 Lesson 3: Your Online Reviews Matter
Popular review sites such as Yelp, Google Reviews, and others, offer you the chance to create a custom listing and open forum for people to discuss your shop. Positive reviews from past customers serve as great marketing for your business. But negative reviews offer a marketing opportunity as well. Addressing negative reviews directly on one of these sites can can go long way to influencing potential customers in your favor as well.
Example: Complete Auto Glass from Thornton, CO
Complete Auto Glass in Thornton, CO stands out consistently on review sites. They use Google Reviews, Yelp, and take advantage of Facebook's review options as well. They are rated highly and consistently across each site and this consistency makes them a strong choice for an uncertain customer trying to choose the right shop.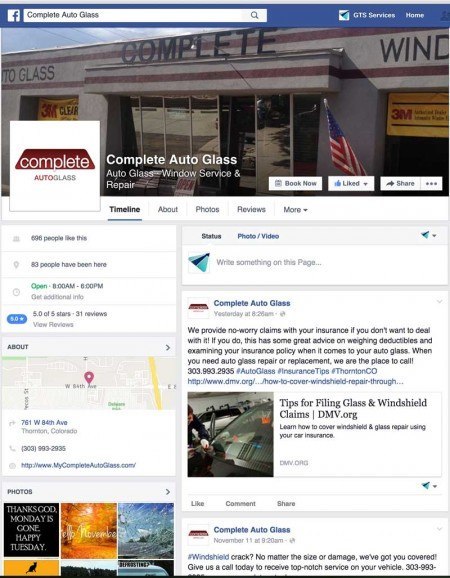 Complete Auto Glass also responds frequently to negative reviews. They treat each negative review as a conversation starter and an opportunity to turn something negative into positive marketing for their shop. Here is a strong example of that tactic in action.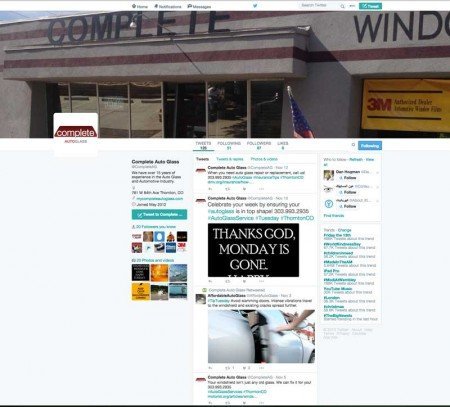 Lesson 4: Stay Consistent
Social media gives you the chance to connect in multiple different ways and this is great when comes to getting your shop noticed. But you have to be consistent across every platform you choose to use. If you have a Twitter, and Facebook and someone can't tell right away that they are run by the same shop, that's an issue and really hurts your marketing.
Little things such as using the same profile image and cover photo can go along way in keeping your consistency on point and easy to find across multiple platforms. And while you don't have to duplicate posts across each social media site you run, it is important to keep the style, and language you use consistent.
Example: Crystal Glass Canada
Twitter Followers: 1,625
Facebook Likes: 5,683
Crystal Glass Canada stands out because they use a variety of social networks and manage to maintain a cohesive feeling across the board. They have found a way to integrate the social media platforms they use to connect with each other as well as their website.
If you start at their website here you can connect to all of their social media accounts from there. In addition each social media account has a link back to the website. Just to connect things a little more their twitter page links to Facebook and they have added apps to their Facebook page that connect to their Twitter and Instagram Feeds. Across every platform their profile image is consistent, their logo with a phone number which makes users confident they are in the right place. In addition to consistent profile images their posts and images all relate to each other as well.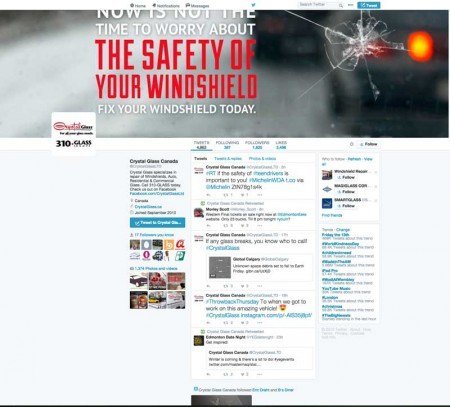 We also spoke with Crystal Glass General Manager, Ken Franczek who told us that their main goal for social media was to reach a broader and younger audience. He also made a point of letting us know that he tries to respond personally to any complaints brought to his attention via social media.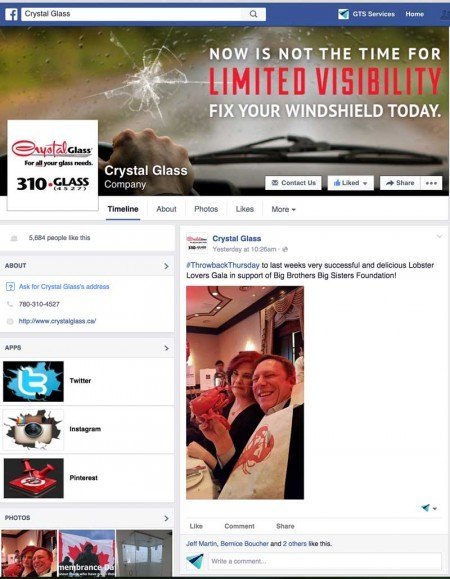 Your Turn
Each of these 4 lessons, if put into practice, can transform you social media into incredible advertising platform for your shop. It all comes down to knowing your audience, sharing content they want, and being consistent.
Be sure to leave a comment below to get a bonus 5th lesson sent straight to your inbox
Follow us!