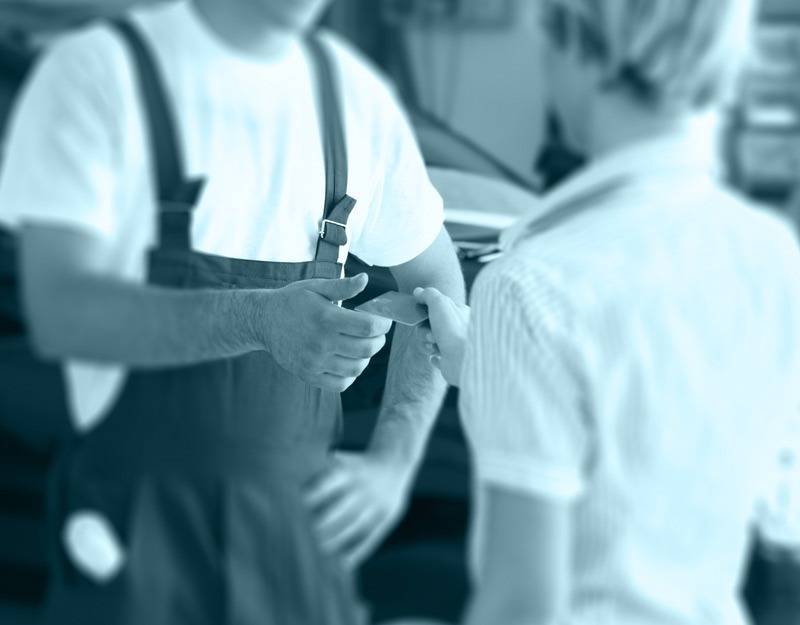 Part 1: Winning More Business
Owning or managing a glass business can be hard, here at GTS, our goal is to help you be successful. To that end, we have created a new, five-part series, designed to help you improve your sales and grow your business. Along the way, we will show you how you can incorporate GlasPacLX to have an even greater impact, and offer tips on how to make your existing resources more effective.
Understanding your sales
Sales is the lifeblood of every business and if your goal is to improve sales and get more customers, it is important to understand how new customers are finding their way into your glass shop. When it comes to sales you need to know: what is working best and giving you the largest return on your investment?
There are many methods your business could be utilizing to generate new customers. For example, you may be handing out flyers, running print advertisements in local newspapers or magazines, or even participating in direct mailing campaigns. However, a large portion of businesses today generate leads and business through online marketing. Doing my own research I have found a lot of auto/flat glass shops often overlook online marketing, which is a shame, because it can bring in a ton of business with little to no hard costs.
How To Effectively Market Your Glass Business Online
Online marketing can be intimidating, but it doesn't have to be. When it comes down to it there are four main areas to spend your time marketing your glass business online.
Company website
Review sites and local listings such as Yelp, Google My Business, and Yellowpages
Email campaigns/newsletters
Social media
Each of these four areas is important for your business and when they work together, they can provide a boost in business and sales beyond that of any traditional marketing method.
Company websites
Every business no matter how big or small should have a website. In 2015, not having a company website is like not having a business phone. A website serves as a social proof that legitimizes your business to potential customers. I am not trusting a glass shop to repair my window if they can't even bother to have a website, and I am not alone in this sentiment. Your website is a where you get to strut your stuff and show people why they should do business with you.
If you are feeling very ambitious about showing off your company online, you could even create a blog. If you can provide useful information to a potential or even existing customer through a blog, it is a great way to interact with them and keep your company top of mind, which can help you win new and repeat business. Here is quick
5-step guide
to starting a blog as a small business.
The other major purpose of a website is to show contact information. Think of this like a digital storefront. Make sure all of your company's important contact information is easy to find. List your phone number, your address, your email, and be sure to include your hours of operation!
Overall Your website is one of the strongest reflections of who you are as a business. If your website looks clean and professional and is well organized, people will assume the same things about your business/services.
Local Listings and Review Sites
When people google a phrase such as "Auto glass replacement Dallas." What comes up? Most likely it is not a specific business. The results probably look a lot like this: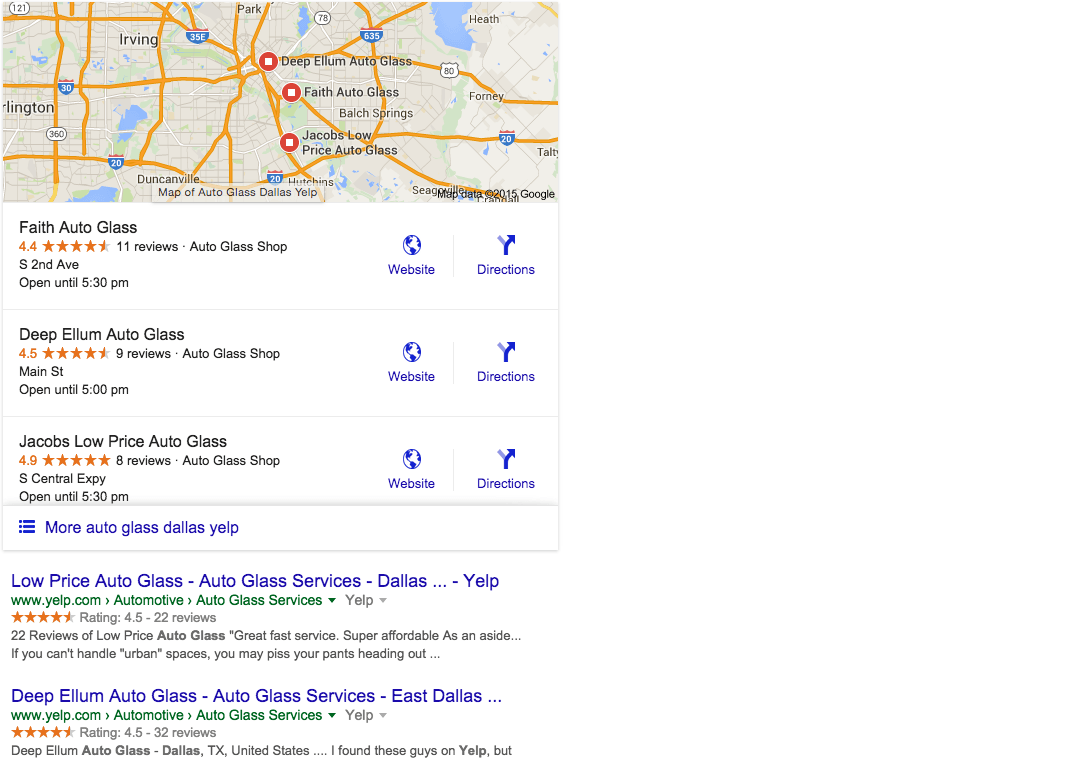 These are local listings and review sites and they dominate Google search. Getting your site listed on these services is important when trying attract attention online.
Getting Listed Locally
That fancy box that shows at the top of Google is called the "Local 5/7 Pack." It will list 5 to 7 local companies that it thinks are most relevant to somebody's search. If someone searches "window replacement LA" Google will use their location or the phrase "LA" to find 7 glass shops in Los Angeles and present them to the searcher. It will also include a map showing where they can find each shop. As a local business, getting in that Local Pack can mean a huge boost in sales.
To get in that pack and map, you need to make sure your business is listed online where Google can find it. The main place you need to be listed is
Google My Business
, it's free and it takes only minutes to sign up! In addition, you can use another free service called
Moz Local
to help your business get listed on all major online local listings. Spend a thirty minutes each day on these listings for the next two weeks and soon you will see your business showing up in the Local Pack, ensuring you are a top result when people search for you products/services in your area.
Showing Up in Review Sites
According to a recent study
90% of customers say their buying decisions are influenced by online reviews
. That is is an incredible statistic! If someone is looking to get a window or other piece of glass installed or repaired, you can bet they are looking at reviews on local glass shops. If you are providing great service and no one has a place to talk about it, you are really missing out! Make sure you are listed on
Yelp
,
Google My Business
(again),
Angie's List
, and anywhere else your local community posts reviews. Don't miss out on this extremely powerful word-of-mouth advertising.
A few things to keep in mind, allow reviews to happen naturally and avoid the impulse to generate reviews from friends, family, or employees, they generally don't come across as genuine and may hurt your business. If you want to generate reviews then ask your satisfied customers to leave a review of their experience. You can do this in multiple ways, you might ask them verbally at the end of the transaction or you may print the request on a receipt.
Also, remember that mediocre and even negative reviews are bound to occur and while this can be frustrating at first, try not to worry too much. If you are keeping an eye on these negative reviews they can actually be a great opportunity to win favor. Respond to negative reviews quickly and proactively and create a conversation online so future customers can see that you made an effort to correct the issue. Overall, if you are positive and genuine when interacting with customers and they can find you on review sites – the rest will take of itself.
Email campaigns
Think of email campaigns as mail flyers that are way less expensive, easier to design and send, and far more effective. Pretty exciting right? A good email campaign can generate online engagement with customers and increase sales. In fact,
77% of consumers say that receiving sales offers through email would be their preferred method of communication
.
How do you go about setting up and sending your first email campaigns? There are few great guides to be found
here
,
here
, and
here
. We'll also discuss some best practices here below.
Make it easy to subscribe
Create multiple opportunities for your customers to subscribe to an email list. You can incorporate subscription requests through your website, social media channels, or even requesting an email address as part of your business process, for example, collecting an email address at the point of sale. Customers will be more likely to view the email as communication they initiated if they have had the opportunity to subscribe.
Make it readable
When we talk about making an email readable, what we are really saying is; make it scannable. People don't always read an entire sales email, making it scannable means that people will be able to quickly find the information they are looking for, increasing the chance that they will click on the links you have provided.
Use cues such as headlines, lists, and short paragraphs
to make your emails easier to read.
Create calls to action
Ultimately the goal of an email is to generate business. Try to create emails that use language that prompts customers to take action. Creating a call to action can be as simple as including a link that says "Follow Us" or a button that says "Learn more". If you have a specific thing you are advertising through email, for instance a discount on a service, creating a call to action such "Come in this weekend to get $100 off the installation of new window" will help encourage readers of your email to take a desired action.
Social Media
I don't need any research to back this statement up: Your customers and potential customers are on social media, and they are using it constantly. If you are not yet convinced,
one study showed that the average American spends 37 minutes a day on social media and 46% of web users look toward the web when making a purchase
. And it's safe to assume the average American needs a window installed every once in a while. Having a presence on social media will let you engage with potential customers and provide another place for them to find you online.
By far the most popular and easiest to use of the social media platforms is Facebook. In fact, you probably already have an account. Now all you need to do is follow
these steps
to create a company page for your business on Facebook. Within minutes, you will have a full-featured company page with which to advertise your business and engage with new and returning customers.
Spend as little as 15 minutes per day or every other day posting updates or engaging with your fans, and you will be able to build a following and notoriety that will get your business noticed. This will help you win new business, and earn more repeat business, from customers with which you engage on social media.
If you feel like taking your social media to the next level you can also run paid advertisements, this allows you to treat social media like a digital billboard for your business. To get started here is a
great beginner's guide
to advertising on Social Media.
How GlasPacLX And GTS Services Can Help
You can use GlaspacLX to keep track of your customers and how they were referred to your business. This can create amazing value for your company because you will get a sense of what specific advertising methods are most effective for your company through easy to read visual graphs and reports.
GlasPacLX allows you to enter an advertising code when adding new customer information, you have the option to make this a required field to get an accurate idea of how many customers you are reaching through your various campaigns. Once this information is entered into your system you can generate the reports and graphs you need in order to see your results. Did someone choose you to replace their windshield because they found you on social media? Or did they read your online reviews and decided to go with your shop to install a new shower door? GlasPacLX will help you track these kinds of stats and answer those important questions. Over time, this will allow you to focus your efforts on your most effective marketing strategies, enabling you to win more business and increase your profits.
Are you new to GTS and maybe looking to learn more about how GlasPacLX can help take your business to the next level?
Contact one of our experts!
They will be more than happy to speak with you and walk you through a demo of our software.
Are you a current customer and curious to know how you can take advantage of these features? We have one of the best support and customer success teams in the business.
Get in touch with us here
and we can help you get the most out of GlasPacLX!
Whoever you are, let us know what you think! Have any tips you have used in the past to increase your business? Let us know in the comments. Don't forget to look for Part 2 of this 5 part series; "Managing the Sale."
Follow us!