This is the final entry in our ongoing series, "How to Improve Your Sales". In Part 1 we discussed "Winning More Business." In Part 2, we were all about "Managing the Sale". Part 3 discussed "Doing The Job Right." Part 4 showed you "How to Make Your Glass Shop More Attractive to Customers." In this fifth and final article in the series we discuss the importance of the post sales process.
Throughout this series we have talked about how improve your sales, how to better market your business, how to improve you selling methods, and how to make sure your customers are happy. But improving sales doesn't end when the job does, the post sales process is one the most ignored aspect of customer service and sales, which is an absolute crime because it is one of the most important methods for improving sales.
Following Up And Why It's Important
The post sales process is all about the follow-up, getting in touch with a customer after you have completed a sale or service with a goal of developing a relationship with your customers that keeps your business top of mind. Usually, this kind of follow-up strategy is used by companies to win repeat business which, when it comes to auto or residential glass, is somewhat less common. But the benefits of following up with a customer can extend far beyond an increase in returning customers.
Think for example, about the benefits of customer reviews. For a refresher, check out our previous article here. In a recent study, 92% of individuals said they will use a local business that has a 4-star rating or better.
In a similar vein to online reviews, word-of-mouth referrals still hold a lot of power. Your happy customers can be a strong influence among other people considering your services. Staying at the forefront of a customer's mind may be the difference between them recommending you to a friend vs. forgetting your name. The bottom line here is this: customers who have good relationship with companies will influence other individuals to use that business.
Direct Follow-ups vs Indirect
There are two distinct approaches when it comes to the post sales process and customer follow ups. The first, is the most obvious, directly following up with a person you have done work for either by talking to them in person, emailing them, or even calling them. The second is a little less obvious and slightly more tricky. Indirectly following up means your shop produces interesting content that encourages to stay in touch with your business without you ever asking them. This article will cover how to succeed at both.
Direct Follow-ups
The strategy for directly following up with customers is about two things: Asking the right questions, and knowing when to ask them. Let's walk through some of the most common follow-up goals and discuss the most appropriate times and questions to ask.
Obtaining an Online Review
When to Ask:
Right after a positive customer interaction or completion of a job that went especially well.
What to Ask:
Keep this very casual with little pressure. "Hey, we have a listing up on [review site of your choice] and if you wouldn't mind giving us a positive review on there would really appreciate it." If you can, have a card to give them with direct links to wherever your site is listed online to make it as easy as possible for a happy customer write a positive online review for your shop.
Building a Customer Relationship
When to Ask:
A few weeks after completing the job.
What to Ask:
This is far more intricate than the simple ask for an online review. This follow-up is best in email form or phone if there is no email on file for a particular customer. The message should first be appreciative and then provide ways for a customer to stay in touch.
"Hey [customer name],

Thanks again for trusting [your shop] to [work you performed]. It means a lot that you chose us for the job and we appreciate your business. We have [facebook page, website, newsletter, etc.] that we use to keep in touch with people we have worked with and would love for you to join. If you would [specific action you need them to take, e.g liking your facebook page] we would greatly appreciate it.

Thanks again,

[your name]"
Getting Referrals
When to Ask:
Anytime after a customer has decided they want to continue a relationship with your business, for instance, sometime after they liked your facebook page.
What to Ask:
When asking for a referral it is important to offer an incentive for either the person giving the referral, the person referred, or ideally both. For example, you could send an email to every fan of your facebook page and ask them to refer potential customers. Here is what that could look like:
"Hey [customer name],

Do you know anyone who might need [services that you offer]? We are running a referral campaign at our shop and thought you might be interested. Right now, if you refer someone to our shop, they get [incentive, most often a discount on your services] and you get [incentive, likely a gift card]. If you have someone in mind tell them to stop by! Just be sure to have them mention [optional referral code so you can track referrals].

Thanks,

[your name]"
The Indirect Follow-up
When it comes to indirect follow up, the key to your success comes in finding the avenue of communication that works best for your business. It may be newsletters, a blog, or social media, just to name a few. The key to being successful here is finding the content that interests and engages customers without you needing to contact them directly. Mastering the indirect follow-up is tricky, but here are three ways to go about it.
Be an Authority:
Use email, and social media channels to communicate with customers and provide them with tips about glass. Tips can be very simple, just check out the twitter feed from Valley Glass: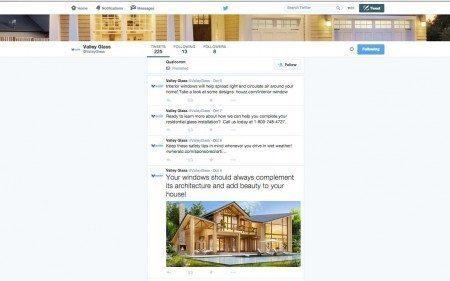 This particular example is great because they are providing a number of tips and ideas to their customers, most of which are based around reposting an interesting article. This minimizes the time investment and allows you to build trust with your customers and establish your authority in the glass industry. Since people love tips and shortcuts this is a great way to reach out and create value for customers.
Be a resource:
Consider having resources on your website that help answer common questions about glass repair and replacement. Anything from the installation process to what you should expect when you are dealing with insurance companies. A great example of this can be seen on the Collision Auto Glass website.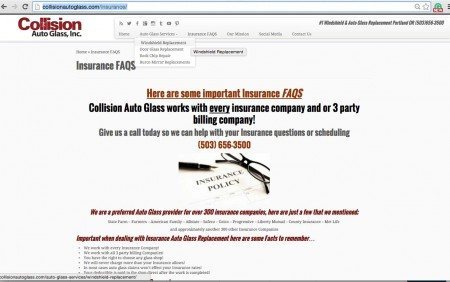 As you can see they have some basic information about how their shop works with insurance companies as well as a link to some general FAQ's. In addition they have a drop down menu under their services tab and each service has a landing page that features general information about the service they provide. This can help establish your shop as a resource for information and can help educate customers which will ultimately make your job easier. Becoming a resource also means that you will have quality content to share on social media. Integrating these two resources, your website and social media accounts, gives your shop a strong online presence.
Be Proactive:
Throughout this article series we have discussed different ways to improve sales, we have chosen to focus on avenues that are very accessible to any business regardless of size. That being said there is one thing to keep in mind when it comes down to implementing the techniques discussed here. BE PROACTIVE. If you are using social media make sure to post regularly, make sure your website is current, and respond to reviews on review sites whether they are good or bad. That effort translates directly into credibility and customer trust. It creates value that you cannot replicate anywhere else.
Whatever methods you employ to follow up with customers remember first and foremost that customers are people. Think back over the experiences you have had as a consumer at other shops or even stores and restaurants. What made the difference between a memorable experience and a forgettable one. Odds are, the ones you remember stand out because you were able to make a human connection. A waiter that is warm and attentive can keep customers happy even when they are waiting longer than normal for their meal. The same holds true for the glass industry. The foundation for creating successful follow-up and a strong business model begins by connecting with your customers as people, not jobs.
GTS Messaging
If you are current GlasPacLX customer, the best way to master the direct follow up is with the new GTS Messaging add-on. One easy to use service will let you automatically send appointment updates, post-service follow-ups, and even post take customer reviews and post them online. Click the link below to learn more:
Learn More About GTS Messaging
Follow us!