This September 30th through October 2nd we will be in Reno, Nevada for Auto Glass Week. And we hope to see you there! If you are you still on the fence about whether or not you are attending this year, we have compiled a list of the top 4 reasons to come see GTS at Auto Glass Week at booth #224.
Top 4 Reasons To See GTS At Auto Glass Week
1) Demos Of Our Awesome New Products
Did you see our blog post on our new application RightGlass? At AGW, you can get a hands on demo of the software and see it for yourself. We will also be demoing our mobile app for GlasPacLX: LX Mobile. Finally, we'll be showing the latest version of GlasPacLX and all of its new features.
2) Exclusive, On The Floor Deals
Looking to add a license to your current subscription? We may have some deals for you at Auto Glass Week. Maybe you've been thinking about adding an LX Mobile license or two but haven't been 100% sure you want to commit. Let's chat at booth #224, we might be able to work something out. And if you are brand new to GTS and GlasPacLX there could be some deals to be found for you as well.
3) Conversation With Industry and Product Experts
Working with GTS is a partnership, and we consider ourselves invested in the success of your shop. Check out our latest blog series designed to help improve your sales or our extensive support/knowledge portal as a few examples of our resources designed to help you be successful. If you have some questions about getting the most out of GlasPacLX to help improve your business and increase your success, we'd love to chat.
4) We'll Give You A Free Pass!
That's right, we have some free passes to give away to current customers. If you would like one just comment on this article below and we will get something set up for you!
Still Not Convinced?
For those of you still on the fence about making their way down to booth #224 at AGW, we have spent countless hours developing this incredibly comprehensive and complex flow chart to help you decide whether or not to come see us at Auto Glass Week.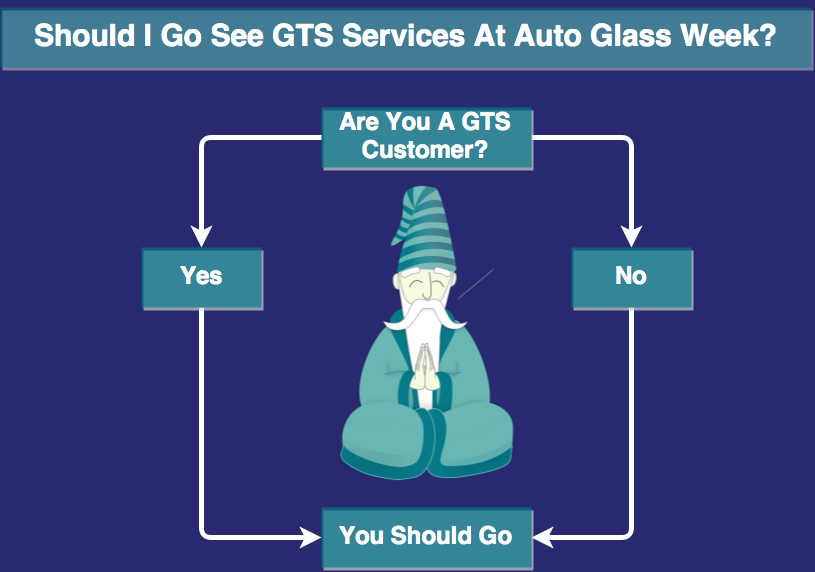 See You At Auto Glass Week
We look forward to seeing you at booth #224 at AGW. Come see our latest projects and products and score some great deals if you are looking to add another license, add LX Mobile, or even if you are brand new. And remember, if you would like a free pass, let us know and we'll you hook up!
Follow us!